Publicador de conteúdo web
Publicador de conteúdo web
2018 Conference Schedule
Main Conference welcome will take place on the afternoon of Wednesday, June 6. Pre-conference activities will be held June 5-6.
Publicador de conteúdo web
Publicador de conteúdo web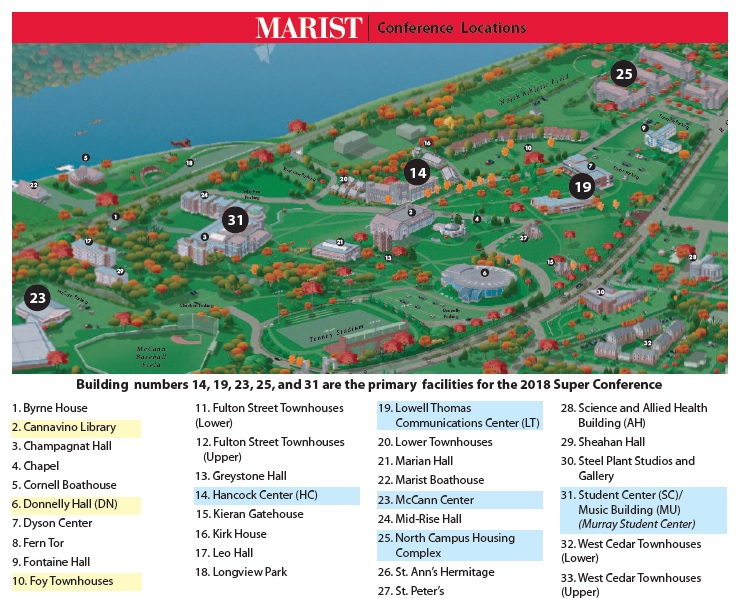 Business Center
If you are looking to get some work done, utilize a printer, or prepare for your presentation, feel free to visit the Business Center, located on the main floor of the Cannavino Library (#2). Hours of operation are Tuesday - Thursday, 8:00 am - 10:00 pm and Friday, 8:00 am-noon.
Gender Neutral Bathrooms
Three gender-neutral bathrooms can be found on campus. They are located in the North Campus Housing (#25), Building A (Ward Hall) Rooms 1104 and 1119; on the 1st floor of Donnelly Hall (#6); in-between Room 111 and the Digital Publications Center; and on the 4th floor of the Music Building, adjacent to Room 4012 (#31).
Lactation Room
For your convenience, a lactation room can be found in Donnelly Hall (#6), Room 219. For guests who wish to use the room, please stop by Human Resources in Donnelly Room 120 to pick up the key. Any questions between 8:30 am and 5:00 pm can be directed to HR at 845-575-3349. For access to the room after 5:00 pm, the key may be obtained at the Marist Security Desk, located in Donnelly Room 201.
Ramadan
For those who observe Ramadan, there is a prayer area in the Student Center, Room 1204 (#31). If you have religious dietary restrictions that were indicated on your registration form, you have already been contacted regarding meal accommodations. If you have any questions, please call 1-888-SUPER-18.
Starbucks
Need a cup of java to energize? Visit Starbucks located in the Hancock Center lobby (#14) and Cannavino Library (#2). Hours of operation are Wednesday, 1:00 am - 5:00 pm, Thursday, 7:30 am - 2:00 pm, and Friday, 7:30 - 11:00 am.
A.T.M. Locations
Donnelly Hall (6), McCann Center (23), North Campus Housing Complex (25), Student Center (SC)/Music Building (MU) (31)

Campus Smoking Policy
Not permitted in any building on campus. It is prohibited within 25 feet of buildings, as well as near doors, windows, and air intakes. Learn more at https://www.marist.edu/humanresources/cleanair.html

Campus Parking Lots
Conference attendees can park in the lot closest to their housing assignment for the duration of the conference. Conference commuters are welcome to park in any available lot.
Access the parking map at https://www.marist.edu/security/pdfs/parkingmap.pdf